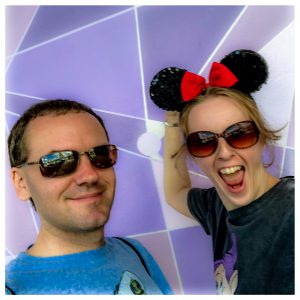 Pins Across the World was started by Alistair & Fiona back in 2017 as a way of sharing our love of Disney and our travels with the world. Having both worked on cruise ships for a number of years we're well versed with travelling the world and enjoy sharing our experiences with you all on our Instagram & YouTube channel as well as here on our new website.
Both Alistair & Fiona have also worked for Disney for a number of years, Fiona spending two years as a Walt Disney World Cast Member and Alistair spending two years as a Navigation Officer onboard Disney Cruise Line.
Having spent so long working over in Florida, we both have a special place in our hearts for Walt Disney World and travel over there whenever we get a chance. When we're unable to get over to Florida we can be found travelling around various UK theme parks and even over at Disneyland Paris.