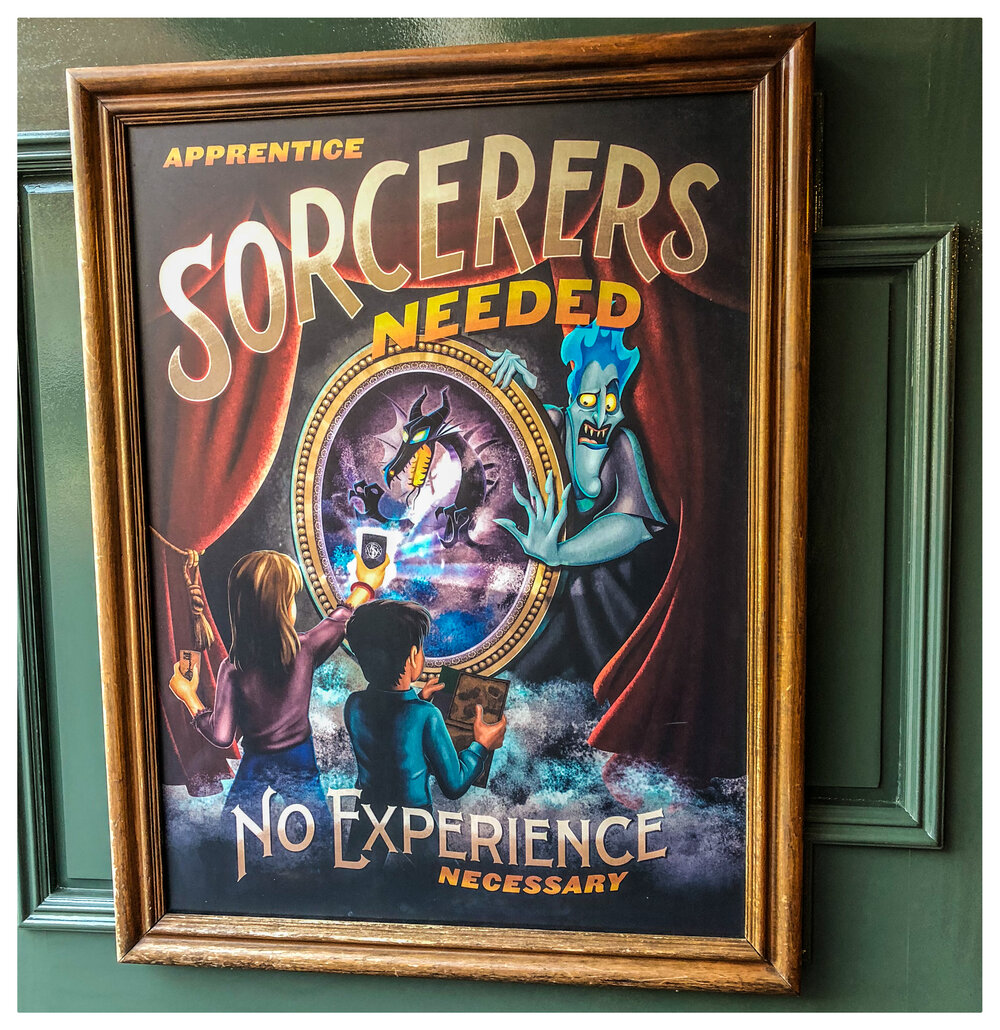 2021 Update: Sadly on the 27th of January 2021 Disney removed the Sorcerers of the Magic Kingdom game from the Magic Kingdom and has confirmed it will not be returning. We hope you had a chance to play it during the 9 years it operated in the park.
While at the Magic Kingdom park Fiona introduced me to an awesome game – Sorcerers of the Magic Kingdom that you can play in the Magic Kingdom Park at Walt Disney World. As the story goes Hades has decided to make the park his new summer home and assisted by various Disney Villains is trying to take over the Magic Kingdom Park. Standing in his way is Merlin who needs your help to defeat them.
Players receive an initial pack of five collectable spell cards, a park map from Merlin which has clues to the location of magic portals that he has placed throughout Adventureland, Fantasyland, Main Street USA and Frontierland.
In the beginners level, the villains are attempting to retrieve four missing shards of Merlins Crystal of the Magic Kingdom which Hades needs to acquire to take over the park. Using your spell cards you work your way around the park completing a number of missions at the end of which you're hopefully successful in stopping Hades. During the beginners level, it doesn't appear to matter which spell card you cast against which villain but once you progress to the later, more difficult levels you need to consider which spell card is right to use against each villain based on their weaknesses – you might also need to use multiple spell cards at once.
Each mission takes around 20 – 30 minutes to complete and after you complete the final mission Merlin will bestow onto you the rank of Master Sorcerer – you can then move onto the next difficulty level.
We played the game over the period of 10 days while waiting on our fast passes and the fireworks, during that time we completed the beginners level and managed to collect 38 of the spell cards – we had a lot more, but as several of them were duplicates we passed them over to anyone we saw who just starting out.
How to play
First-time players need to visit the Firehouse on Main Street USA where your Magic Band will be activated to play the game and you'll be given Merlin's map, spell cards and some quick training on how you use the Magic Portals and defeat the villains.
Providing you complete at least one portal after collecting each set of cards you can return to the Firehouse once per day and collect an additional pack of 5 spell cards. After you complete the mission and receive the honour of Master Sorcerer you can also return and get another pack of cards.
After your magic band has been activated for the game, simply touch it against the keyhole located at the magic portal and it will come to life. Depending on the portal and story progress you'll need to present one or more of your spell cards to defeat the villain.
The cards
Each pack of cards contains 5 random cards, with allegedly 70 cards in total within the game and some cards are considered common, with others being a lot rarer! Most players will trade (or just give you) their duplicates so always pay it forward!
In the beginners level which you start out on it doesn't matter which spell card you use against each villain, but once you complete the beginners game and move up you need to pay attention to the information contained at the bottom of the card, there are also different categories of cards and within our collection we had;
Machine Spell Cards
Hero Spell Cards
Warrior Spell Cards
Animal Spell Cards
Princess Spell Cards
Toy Spell Cards
Princess Spell Cards
Fairy Spell Cards
Mystic Spell Cards
Monster Spell Cards
Our Tips for Playing
The game seems to automatically distribute people around the park so not everyone is given the same mission or portals to locate at the same time, this being said we found early morning or late in the evening during the extra magic hours to be the best time to play the game but I guess this will vary depending on the time of year.
We came across the odd portal which refused to recognise our spell cards, it appeared that the cameras the game uses to identify the card were dirty – one, in particular, was covered in fingerprints which a quick wipe with a cloth solved! Unfortunately not before we were defeated by the villain!
If you do find yourself being defeated, you'll get another chance to tackle them at a different portal so don't worry too much if the portal doesn't recognise your cards – certainly on the beginners level.
If it's been a few days since you played and you forget which portal you are looking for you can scan your magic band/key at any portal and it will tell you where to go.
Fiona had an old key card from playing the game several years ago, we asked and apparently, these can still be used but need to be activated at the Firehouse on Main Street – we're not sure if this means you can use the card or if they transfer your game progress to your magic band – if anyone knows please comment below!