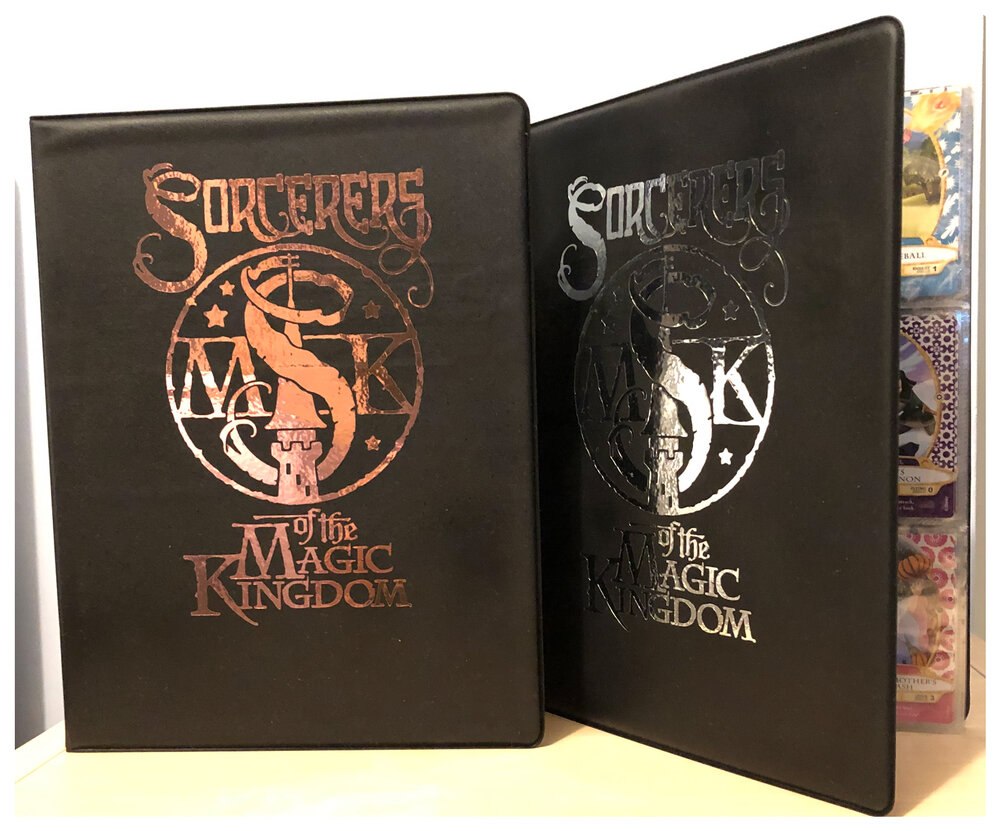 If you were a regular player of Sorcerers of the Magic Kingdom like we were, you'll have amassed a large collection of cards and while we were happily storing ours in an elastic band we thought we'd make our own binder to keep our collection safe and organised.
Disney did have their own cardholder for sale in the Emporium (and probably online in the USA) but it was quite expensive for what it is and it's also rather bulky so we made our own and if you want to make something similar read on;
The first challenge being from the United Kingdom was to find a suitable folder or binder that we could use for holding the cards, this is a little more of a challenge than we thought it would be as unlike in the USA where Baseball Card collecting is a big thing we don't have it over here in Europe.
After a bit of searching, Alistair found a suitable binder with built-in plastic pockets suitable for holding the Sorcerers cards in the form of this Pro 9 Pocket Collectors Portfolio Album* on Amazon. It has built-in plastic sheets which hold 9 cards per page with 10 pages in total. As there are only 70 standard Sorcerers cards plus a couple of special event cards a 90 card folder should be more than enough for all your collecting needs.
It's available in different colours but we went for the black one as it suited what we wanted to do best but pick whatever colour you prefer – just bare in mind that your design will need to be a contrasting colour to the folder.
If you've gone with our suggested binder once it arrives you'll spot the only issue with it, it has an annoying completely unnecessary foil logo on the front of it which you'll want to remove. To remove it we grabbed some sandpaper and lightly sanded the foil and the surrounding PVC material – you're not trying to remove the foil but simply scrape the surface so that the paint will stick to it. Once you've done this use a clean dry cloth to wipe the dust away and ensure that the surface is clean. Whatever you do don't use water or you'll cause the surface of the binder to bubble and you'll need to wait till it fully dries before continuing.
Next, open your binder and lie it down so that the front and back covers are facing up on some newspaper and grab some Matt Black Spray Paint which is suitable for use on PVC material. When you apply it you'll want to do it as lightly as possible to make sure you don't cause the PVC to bubble which will happen if you get it too wet. We'd strongly recommend doing this outside on a non-windy day and make sure you shake the can properly before applying the paint or you'll get lots of little spots.
In the end, we applied 3 light coats to the binders and it came out perfectly.
Now comes the decal, Alistair had access to a Silhouette Vinyl Cutter* so it was easy enough for us to cut the design out of metallic foil. If you don't have access to a vinyl cutter you can find similar vinyl decals on Etsy from various sellers for between £3 and £10 including delivery.
If you do have access to a cutter, Alistair scanned in the back of one of the cards and traced the Sorcerers Crest and writing to create a Silhouette Studio file which we have provided here to save you having to do it yourself.
Regardless if you print your own or buy off of Etsy, once you have your decal you'll need to use transfer film to place and stick it onto the front of your folder. Make sure you put it on the correct side as if you put it on the back of the folder, your cards will all fall out because the pockets will be upside down!
Let us know how you get on in the comments below or if you've made your own tag us in a picture on Instagram or Twitter.